Mary Poppins used to sing about how "just a spoonful of sugar helps the medicine go down" but today I'm going to have you singing "just a tablespoon of BRAGG'S is so good for my health" or something to that tune anyhow! I know there are a million different vitamins and supplements and juices and plants on the market that promise to eliminate common health problems, but BRAGG's apple cider vinegar is cheap, organic and easy to digest and you only need to take a tablespoon in the morning, for about 60 days, until you have flushed out your system and can start to see the benefits. Apple cider has been credited with everything from curing hiccups and alleviating cold symptoms to aiding in weight loss and helping to prevent heart disease. All this from VINEGAR!!!!
Any Google search with show you that apple cider:
Helps heartburn and acid reflux
Promotes healthy cholesterol
Promotes healthy blood sugar
Is an antioxidant
Improves nutrient absorption
Clears clogged pores
Can be used as a non-toxic cleaner and a weed killer too (oddly enough!)
I know what you're thinking… this girl swishes oil in her mouth and drinks vinegar on the daily? YUP! In it's raw unfiltered state, apple cider vinegar contains all the bacteria-fighting benefits that many commercial vinegars lack. That's why I really like BRAGG's. It's made from delicious, healthy and organically grown apples. And it's unfiltered, unheated, unpasteurized and it contains the mother of vinegar which occurs naturally as the strand-like enzymes of connected protein muscles. Don't get caught up in the jargon…It's kind of like Kombucha but you only put 2 capfuls of the stuff in an 8-once glass of water when you wake up and/or put it in your water bottle for the day. You can also cook with it, add it to salad dressings and it's good for sore throats and promotes healthy skin and hair. The list is seriously endless! You can pick this stuff up anywhere… your local grocery store will do! The recipe I'm sharing with you below today doesn't have any in it, but it's an easy peasy, low-calorie, gluten and dairy free muffin mix so enjoy it anyway!
__________________
In other news, you all know how much I love to read. It literally consumes all of my free moments and I wouldn't have it any other way. It has been a dream of mine to start a Little Free Library in my front yard and when Andy suggested we use an old bookshelf to create one, I was all in! This bookshelf came with our house, and it was tattered and falling apart until Handy Andy came to the rescue. He literally sealed it and waterproofed it and then I chalk painted it and sealed it and lastly we added a plexiglass door and wallah! We have already had many visitors and I know this because of the new books left and the signatures in the Guest Book I left inside! We call it The Namaste Nook and we have books on health and wellness and cookbooks and a plethora of non-fiction, fiction and children's finds too! If you're in the Grover Beach area please stop by and check it out!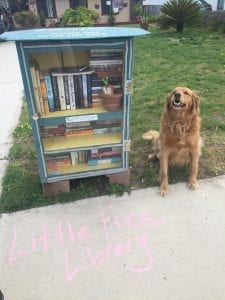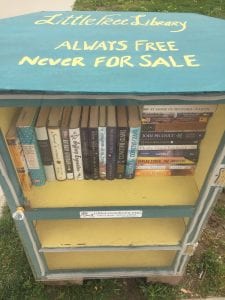 Because I had it registered with the Little Free Library charter, I have a unique plaque on the shelf and we also have bookmarks, street chalk and dog treats too! I am so thrilled to be able to contribute to my neighborhood and community with something I am passionate about- literacy! It's easy to start your own library and I heard Target is even carrying them now too. How cool!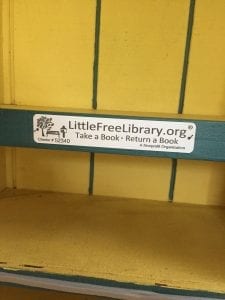 In case you're wondering what I'm currently reading let me tell you… one of my favorite authors, Alison Weir, has just come out with a new book Katherine of Aragon, Henry VIII's first wife and she's set out to write a historical fiction novel for all six queens! Henry VIII and all his wives is more of my favorite subjects to read about and the way she tells the story, you feel like you're in the Court with them wearing fancy dresses, drinking wine while feasting on several dishes as is per usual in England! I also just finished the new audio book about the kidnapping of Patty Hearst called American Heiress and it is about the wild saga of this case. I knew nothing about this case, even though I live about 45 minutes from Heart Castle, and I couldn't believe she had the authorities convinced that she wasn't in on the crimes she committed with the SLA. It shows you what money, and a good last name, can buy! What are you reading? Comment below and let me know!
_____________________
Strawberry Banana Muffins- makes 15 muffins 
Ingredients:
-2 bananas
-1 cup of strawberries, quartered
-1 cup almond butter
-1 T  vanilla
-2 T honey
-1/2 tsp baking soda
-1/2 tsp nutmeg
-1/2 tsp cinnamon
-toasted coconut for garnish.
Directions:
Set oven to 350 degrees, and spray muffins tins with coconut spray or other non-stick spray.
Blend all the ingredients together in a mixing bowl, except the strawberries.
Fold strawberries in last and fill muffin tins 3/4 half full.
Bake for 15 minutes and check if done by inserting a toothpick in a muffin until it comes out clean. Enjoy!!
______________________
Lastly, there were many questions on what exactly to do while you oil pull. Many people said they swish while doing laundry, driving to work, walking their dogs and making breakfast. Meanwhile I just DANCE!!!!!
Oil Pulling from niccola nelson on Vimeo.