You know that feeling when you have a really delicious meal and all you want to do is take a picture of it or tell someone right away? Welcome to my life, the chef's wife life! Because Andy is always making these crazy good meals for us using the least amount of ingredients, I get inspired to make something clever that maybe he wouldn't have thought of already and today I did it! We are alike in many, many ways but the one noticeably different aspect of our husband-wife team is that I LOVE to eat and cook breakfast whereas Andy usually doesn't eat his first meal until sometime around 1 p.m. How crazy is that? The man doesn't see the big to do about eggs, brunch in general, fancy waffle makers or crispy bacon, not to mention the atrocious prices restaurants charge for such easy peasy food to begin with. I'm the opposite. I could eat brunch for HOURS and when I go to fancy buffets with my girlfriends, we do indeed stay for HOURS. Because breakfast is amazing and there's a reason it's called the most important meal of the day! 
Today I tried something new. I have a huge basil plant in my backyard due in part to the fact that every single dog that comes to my house has to pee on it! No seriously though. I washed the basil extra hard and even blanched it just to make sure! I have so much I decided to make pesto so that I could freeze it and use it whenever and on whatever I please! And then I thought about adding it to eggs and that make me think of green eggs and of course I immediately thought of ham, which I do not like to eat often, so I thought, "well yam rhymes and it's way healthier than ham anyway so okay." And there you have it, another Yummy Yogini creation! Wallah… I hope you enjoy it as much as me… Oh! And I made these two dishes separately but of course you can put the green scrambled eggs onto the yam and call it a day!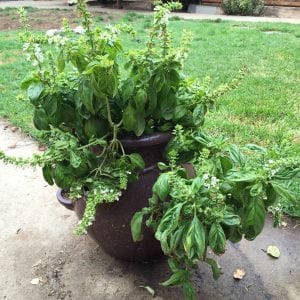 Presto Pesto
Ingredients:
-3/4 cup olive oil
-6 cloves garlic, chopped (my garlic is pre-roasted and in the refrigerator for multiple uses!)
-4 cups fresh basil
-1/2 cup pine nuts
-1 tsp salt
-1/8 tsp crushed red pepper
-juice from 1 lemon
-salt and pepper to taste
Directions:
Preheat the oven to 350. Spread the pine nuts on a cookie sheet lined with parchment paper until they brown.
 
Cut the stems off the basil. Then blanche the basil in some boiling water for less than a minute and then emerge in cold water.
Place everything in your food processor and mix until smooth.
To make Green Eggs, simply add 2 tablespoons of pesto to scrambling eggs and enjoy!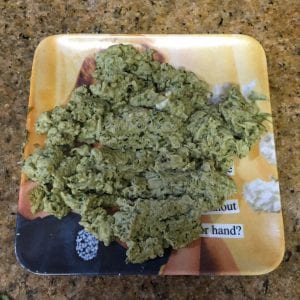 Yam Toast
Wash and peel one sweet potato.
Slice the potato thinly.
 
Place the piece of toast into your toaster or toaster oven for about 3 rotations or until it is soft enough and browning.
Poach or scramble some eggs and layer on top! This meal is clean, fast and fresh!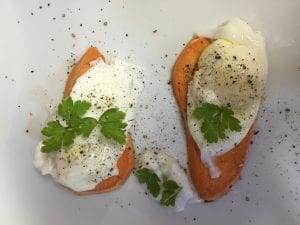 There are just 24 tickets left for OM Sweet HOME, my first ever collaboration with my husband Andy for yogis, winos and foodies alike! And I just hired local DJ Erin Biermann to play the entire event so it's going to be off the hook now! I am so thrilled to be hosting a LuLaRoe trunk show and jewelry by local designer heal + co. My girlfriend Kristina is currently in LA for the LuLaRoe convention and she will be bringing back tons of new styles of leggings, dresses, skirts, tops and more! Another friend Olivia will also be giving spa treatments from Pure Haven Essentials a line that has NO harmful chemicals of any kind!  Andy will be pairing wine and nosh and I will be leading an all levels yoga class from 6-7 p.m. There is the option of practicing on the grass or on the driveway if you prefer a fast surface. Tickets are $22 and include yoga, food and drinks. Get your ticket here!
Sneak peak…..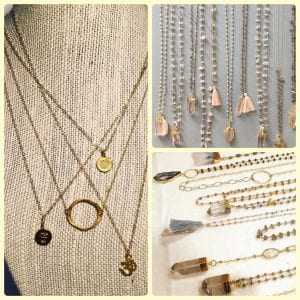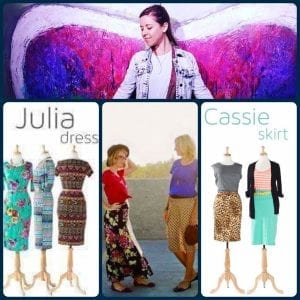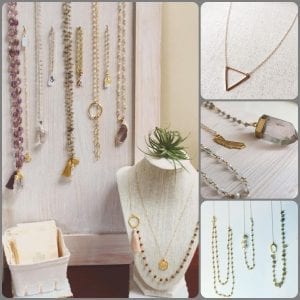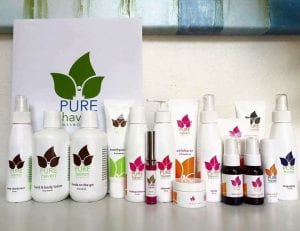 _____________________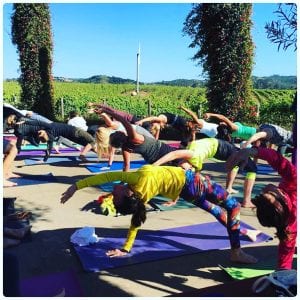 If you're free tomorrow night, Yoga in the Vines continues at Chamisal Vineyards from 5-7 p.m. I'll be teaching a free yoga class from 5-6 p.m. and there will be snacks and wine later for purchase. Last time we had 55 people so make sure to arrive early with your mat! Lululemon puts on all the events and there are more coming up in August so stay tuned!