"Be the most positive person you know" is one of my many mantras. It goes without saying that if the whole world thought like this, the planet would be an entirely better place. I really do try to look on the bright side of things because there is so much negativity, cruelty, sadness, and hatred everywhere you look. From Baltimore to Tibet, people are suffering and starving, making what little problems we all have exactly that- little problems. If only we could all practice yoga, we could all know peace! 
This past week I've been living like an angry bird. My next door neighbor, who we share a duplex with, recently moved out and it has been the best and worst experience to date living on the Central Coast. My neighbor was a nice woman but she was a hoarder,  and left trash everywhere outside of her place and would literally let her dog outside maybe twice a day even though she was unemployed and rarely left the house. It made me extremely sad to see her treat herself and her dog like that, closed up inside all day and all night. So when she told me she was moving out, I was secretly elated because I am a neat and tidy person and I couldn't stand the piles of dog poop that accumulated in her front lawn, nor the way she treated our shared laundry room like a storage unit.
The week she moved, in true style, she left a bunch of stuff in the yard and even better- in the house! Not only did she leave her bed and exercise bike (I peeked inside!) but she left a ton of trash everywhere for Andy and myself to haul in the garbage bins. Needless to say, when the landlords did finally show their faces, they were disgusted and appalled by the conditions she left her half of the house in. I would be too. It's not fair to anyone to move partially out and leave the rest for someone else to clean up.
So imagine my surprise last week when my landlord calls and says he wants to do a walk-through of my unit, when we've lived here for over three years and have kept the place tip-top..oh! and the landlord refuses to spend any money on anything really. I was not happy. When he showed up at my door last Friday night, I was reading a book and sipping a glass of champagne and was in a fine and dandy mood. That soon changed, and quickly, I might add!
The landlord kept complimenting me in a very condescending way about how "neat and clean" our place is and how he's "so surprised we've managed to keep the place in such good condition." Excuse me? What am a toddler who can't pick up after herself? I think not sir. But the icing on the cake was when he told me he didn't want any "extra" dogs over anymore, for playdates or overnights. We're still negotiating the terms of that (well I am at least) and I don't appreciate being treated so unfairly just because my neighbor disrespected and trashed the premises. This is great for my dog-sitting business, right?! Fortunately most of my business is at other people's homes but no play-dates? No way!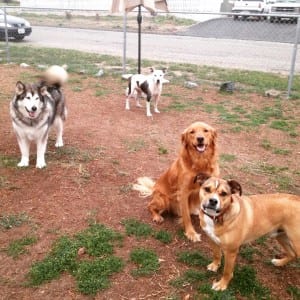 I've been festering over that the past week and then I picked up the newspaper yesterday and realized this was a petty problem compared to what I was reading in the national news section. Why let one person destroy my mood and put me in a funk for a whole six days? No one person should have that kind of effect on someone, you know what I mean? Needless to say, and in true Niccola form, I hit the mat yesterday for a long asana practice followed by a 45 minute meditation session. The clarity and forgiveness I find in my practice never ceases to amaze me even after all these years.  KNOW yoga, KNOW peace! So, it's back to positivity I guess!
I've said this before and I'll say it again- you don't need hours or even an hour to get a short yoga practice or breath practice or meditation practice in. Just committing to the practice of rolling out your mat and actually getting on it is something all in itself. And if you want to slowly and steadily build your practice, try starting with just five minutes a day. In no time, five minutes will become 10, 10 becomes 30 and so on and so forth. Before you know it, you'll be saying NO yoga, NO peace!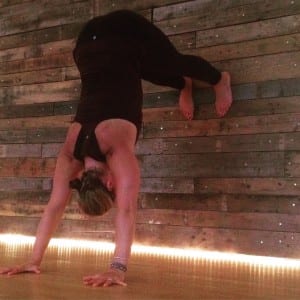 If you can't commit to getting up early to get your yoga done, then do it after work. If you're too tired then do it during lunch! Every other Wednesday I teach yoga to the employees from the San Luis Obispo County Department of Air Pollution Control during their lunch hour. The class is from 12:10-12:50 so it's short but that doesn't mean it's not complete. I love the idea of work place yoga because it gets people away from their desks and computers and then there's no excuse for not having time to work on your mind, body and soul. You can rest when you're dead right?!!!
Or….. you can rest while you put your crock pot to work for this delicious slow-cooked chicken recipe that I make all the time. It finally looks like we may get some rain and it's a tad bit chilly out (62 degrees, what a wimp!) so I'm warming up with this yummy stew!
_____________________
Slow-Cooked Whole Chicken and Veggies- serves two or more with leftovers
Ingredients:
– 1 whole chicken
-5 carrots, chopped
-5 celery stalks, chopped
-6 cloves garlic
-1 red onion, chopped
-1 green apple, chopped
-2 T Herbs de Provence
-2 cups water
-salt and pepper
Directions:
1. Grab your crock pot and stick your chicken in it. A turkey will work fine too.
2. Then chop up all your veggies and place them in the crock pot too.
3. Add the water, spices and salt and pepper.
4. Set on high for 4 hours or until the chicken falls off the bone.
5. Make sure to take all the bones out before serving! A nice loaf of French bread would compliment this well too! Enjoy!
 _________________
Here's a little trick of the trade for you concerning garlic. Each week I buy two bulbs of garlic and then I wrap them in foil, toss them in the oven on 350 degrees for 30 minutes and wallah! Roasted garlic that I can squeeze out at any time and use for garnishes too!
__________
Oh! And here's a yoga trick of the trade for you… New teachers will love this technique of marking your big toes with "R" and "L" (on your opposite toes) so that when mirroring students, you don't screw it up! This helped me immensely when I first started teaching yoga and now I want to share it with you!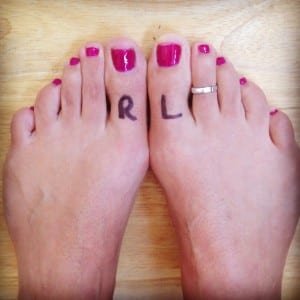 ____________
And lastly, for your book recommendation this week, I'm currently reading The Good Girl by Mary Kubica that has been hailed as the next Gone Girl… but then so was Girl on the Train so who knows? So far, the book is about a prominent Chicago judge's daughter who goes missing and no one knows is she's playing around or if she's actually been kidnapped. I'm enjoying the way the author goes back and fourth in between chapters with before and after glimpses of what really happened. I started it yesterday and I'm 100 pages in so you know what that means- it's freaking good!