Happy New Year Yummy Yogini readers… a week or so late! I am extremely happy the holiday season is officially over even though it's my favorite time of the year… but the yoga students have been making me fat with all their homemade cookies and fudges and giftcards and such. I feel as though I packed on some pounds this past month and I'm sure most of you feel the same. I have a motto and it's this; don't worry about what you eat from Christmas to New Year's, worry about what you eat from New Year's to Christmas… am I wrong?! BUT…I am someone who cannot resist sweets and baked goodies when they have been homemade and are basically still warm and put right in front of me to try. A normal person would probably have one; I on the other hand am not normal and I end up eating three and feeling like crap a little while later. Yet I don't live and learn, I repeat this mistake year after year and tell myself that this year it will be different! But then I think, well it's only once a year, and there you have it. Apparently I need a new motto.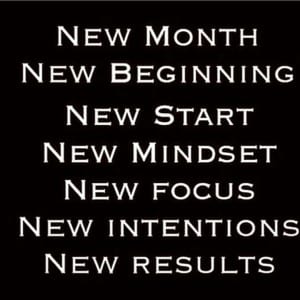 This is the time of year in yoga classes where teacher's refer to detoxing and it applies to both the body and the mind. Your practice is the perfect way to shed unwanted layers and toxins; whether those are old habits, your outlook, extra pounds or internal dialogue, it's entirely up to you. I notice my students sweat a lot more this time of year and I'm sure it's a combination of that old holiday diet and mental weight that we're glad to let go of. It has nothing to do with the fact that I tend to jack the heat up more. I swear. HA! In all honestly though, it feels good to decide to consume less alcohol, dairy, sugars etc., and it's a whole other battle with carrying through on that decision although you'll feel 100 times better in the end.
When I think of the word "detox" cabbage is the first thing that comes to mind. Is that weird? I'm pretty weird myself so it probably is but cabbage has like no calories in it at all. I mean there are 21 calories in one cup of chopped-up cabbage. That's nothing. Seriously. And cabbage is filling. And it has a lot of fiber which helps you go! TMI? And it's like food for your brain with a ton of Vitamin K and anthocyanins that help metal function and concentration. It reminds me of meditation! This soup recipe I'm sharing with you today is chalk full of veggies and nutrients and I only use water as a base instead of chicken or vegetable broth to eliminate the amount of salt. And this recipe makes so much that you can freeze it and pull it out over the upcoming months to warm your bones. Oh! This entire recipe cost me $25 and it'll probably feed Andy and myself for months.. just add water to strrrrrrrrretch your budget!
______________________
Cabbage Patch Barley Soup- makes half a lobster pot 
Ingredients:
-1 head cabbage
-1 bunch celery
-1 bunch carrots
-1 sweet potato
-1 white potato
-1 red onion
-2 Roma tomatoes
-1 can red kidney beans
-1 can white pinto beans
-1 small can diced green chilies
-1 cup barley
-2 bay leaves
-salt and pepper
-15 cups water
Directions:
1. Chop up the cabbage and veggies and place in a large pot.
2. Drain and rinse the beans and them and the chilies, to the pot.
3. Add the barley, salt, pepper and bay leaves.
4. Add 15 cups of water. (I don't use vegetable or chicken broth.. too much salt)
5. Place a lid on top and bring soup to a boil. (usually takes about 25 minutes.)
5. Reduce heat and stir occasionally for another 25 minutes or until everything is soft. Enjoy!!
_________________________
I've been making that cabbage soup since I moved to Chicago and was shocked with how cold it could actually get living by the lake. Unbelievable! So, another thing I think of when referring to "detoxing" is eating less starch and carbs. I love pasta. You all know it and I'm not shy to admit it. But… I am literally pasta-ed out right now after all the Italian food I consumed this past month. And I didn't even spend the holidays with my Italian family so shame on me! Instead of pasta, I look to Quinoa, that is loaded in amino acids and not as hard to digest like white, whole-wheat or brown rice pasta. I usually cook my dinner just as I would except I substitute quinoa. It's easy peasy and nice to change it up.
Speaking of licking the bowl… I'm always looking for new brunch ideas because I tend to eat a light snack in the morning and then I have a bigger meal for lunch consisting of salad or soup or a Yummy Yogini concoction. So today I used a little of everything that I have at home to create this Quinoa Brunch Bowl, that will take you less than five minutes to prepare and cook! Like I said, I love quinoa and I use it for pasta, salads, and burgers too. It's healthy, filling and compliments just about anything you pair it with. Enjoy!
________________________
Quinoa Brunch Bowl- serves one 
Ingredients:
-1/4 cup dry quinoa
-1/2 cup yogurt (any kind)
-honey
-rasberries (or any fruit)
-1 T sunflower seeds
-basil or mint
Directions:
1. Follow the instructions for cooking the quinoa. I used this 5-minute quick cook kind.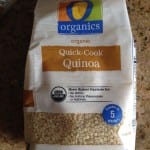 2. In a bowl, add the yogurt and drizzle some honey on top.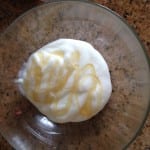 3. Add the seeds and the quinoa.
4. Top with the raspberries and a sprig of mint or basil! Easy peesy!
_________________
I'm a firm believer in NOT setting New Year's resolutions but I am a firm believer in creating vision boards for goals, ideas and dreams. I'll be working on mine this week and will be ready to share by next. You should make one too.. it's easy and so fulfilling. Get inspired here!