OM nom nom sounds like something Cookie Monster would utter as he was enjoying a treat but yesterday, it was the name of my eighth event and I am pleased to say it sold out and we partied OM! Usually the idea is to do yoga in my driveway first and then we head into the backyard for some brunch and booze but yesterday, the rain got in our way! That didn't deter the 50 or so yogis who signed up to come over and party even if we could't get a little practice in beforehand… they must have learned the art of being flexible to situations in yoga… no pun intended…!!!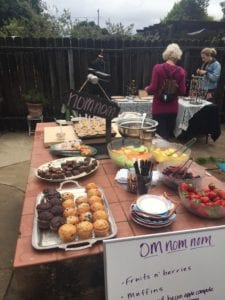 I got a ton of questions yesterday on how to make some of the nom nom at the yoga party, so I thought I'd share a couple of quick recipes with you today that are easy peasy to make too! The first one is something you probably have all made before or you've been reluctant to try because the recipe yields so many of them. But not to worry, these Egg Breakfast Bites can be frozen and heated later on. I like to heat them up in the morning before work and it takes less than five minutes. Andy's bites were made in small cups but you can use your muffin tins. His also featured chorizo but if you're vegetarian skip it and just use this veggie one instead! The second recipe is for Butternut Squash Spice muffins and these are gluten and dairy free, but mine look nothing whatsoever like his beautiful ones above… practice and all is coming I guess!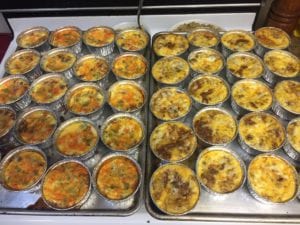 Egg Breakfast Bites in Muffin Tins: makes 4 bites
Ingredients:
-4 eggs, scrambled
-1/4 cup unsweetened Vanilla Almond Milk
-handful of spinach
-cheery tomatoes
-handful of herbs (I used parsley and cilantro)
-1/2 zucchini
-1 jalapeño pepper
-scallions
-Coconut oil (for greasing down muffin tins)
-cheese for sprinkling on top (I used Asiago)
-salt and pepper
Directions:
1. Preheat the oven to 350.
2. Chop up all your veggies. Give them a two minute sauté in a pan with a little coconut oil. The eggs cook faster this way.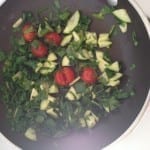 3. Scramble the eggs with the Vanilla Almond Milk.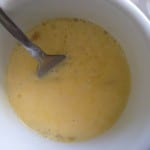 4. Grease the muffin tins. Then grease them again. This will insure the breakfast bites don't stick to the tin!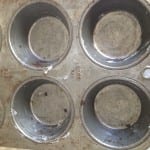 5. Scoop the veggies into the tins and pour the scrambled eggs on top. I only used 4 tins since there are only two of us. Make this recipe bigger if you need to serve more people.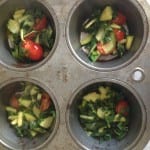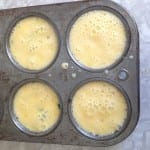 6. Grate a tiny bit of cheese on each one and pop into the oven for 20 minutes or until the eggs are cooked.
7. They will have a tiny bit of water on top when they are through cooking and brown on the sides. Use a butter knife to scoop them.
8. Serve with a bit of hot sauce and wallah! Clean eating! And they're cute!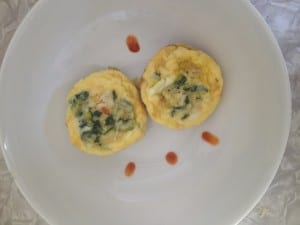 _____________
Butternut Squash Spice Muffins- makes 15
Ingredients:
-1 butternut squash cut length-wise and de-seeded
-3/4 cup brown sugar
-1/2 cup Niccola's apple butter or almond will do
-1 cup whole-wheat flour or almond flour
-1/2 cup unsweetened coconut milk
-2 eggs
-1 tea vanilla extract
-1/4 tsp salt
-2 T chia seeds
-1/4 tsp each nutmeg, cinnamon, allspice
Directions:
1. Preheat the oven to 400.
2. Cut the squash length-wise, remove the seeds, and place on a lightly greased sheet. Bake for 30-40 minutes, or until soft. You can use a fork to judge if its easy to pull at. Let it cool for five minutes.
3. In a separate bowl combine the flour, baking powder, cinnamon, nutmeg, allspice and salt. Whisk throughly.
4. In a separate bowl, combine the eggs, vanilla and coconut milk.
5. Skin the squash and scoop it into your food processor with the brown sugar and apple or almond butter.
7. Slowly fold in the flour mixture until all the squash is incorporated. Add the chia seeds last. Scoop into muffin tins.
8. Turn oven down to 375 and bake for 15-20 minutes, or until a toothpick comes out clean. Add shredded coconut on top and enjoy!
__________________
Before we go I want to invite you to join me this Friday, May 12 for : Y O G I C  A F : a yoga class set to rap, hip-hop and R&B and it's totally FREE to all you spiritual gangstas!! Think Biggie, Salt n' Pepa, Snoop, Coolio, Madonna, Missy Elliott, JT, Drake, Fugees, Genuine, TLC, Run DMC and so much more!!
🎶 Class is from 6-7:15 pm and is at the SLO Yoga Center.. did I mention its FREE??? So bring your ride or die with and let's get explicit! I'm taking requests… comment below! 
🎶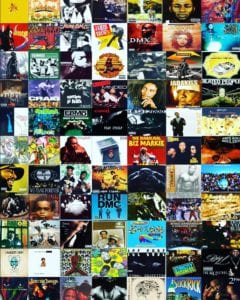 Also if you're a book/wine lover like me and like to geek out with a scientific read sometimes, Cork Dork is it! This book is about the crazy, wild and late night lives sommeliers lead and how their passion of wine leads them on adventures to different countries, to smelling seminars, blind tastings, and more. I loved every minute of it and it's making me look at and drink wine with a whole new perspective. Check it out!