For years now Andy and I have been saying that we should partner up for a food/yoga event or something of the sort and now, after only 13 years together, it's finally happening! Some ideas just ripen with time… like wine! Most of my students I see on a pretty regular basis but it's mostly just in and out of the studio, where we make small talk and ask about our day but usually I have no idea what they are all about, or what they do for work unless we're friends through social media. So I wanted to create an event where I could both teach and mingle with my students and get to know them better and vice versa. Plus everyone always goes gaga when I tell them I'm married to a chef so it's time to share the love!
I'm excited to announce the first OM Sweet HOME, an event for yogis, winos and foodies alike! The event is happening in the intimate setting of my own backyard in Grover Beach, California and will feature an all levels yoga class, trunk shows, an eclectic blend of music, and food and wine pairing from my husband Andy. I am hoping to put on one of these events once a month at my house and I'll be looking for different local artists and musicians to feature so let me know if there's someone out there who might be interested.. even if that person is you!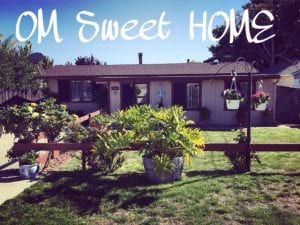 OM Sweet HOME will be happening on Wednesday, July 27 from 6-8:30 p.m. I'll be teaching an all levels yoga class from 6-7 p.m. on my front lawn (and there's a huge driveway for those of you who prefer to practice on a firm service) followed by a trunk show from LuLaRoe that will include leggings, tops, tanks, dresses, skirts and more! Local jewelry designer Emily Weipert will be showcasing her line called heal + co. that I have several pieces from and am in love with! Her style is simple yet unique and her price point is right up my alley!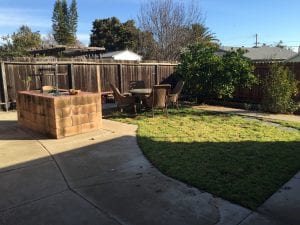 Andy will be cooking up a storm and pairing his favorite dishes with some of our favorite wines from the Central Coast and beyond. All food and drink and the one hour yoga class are included in the ticket price of $22 that can be purchased here! All you'll need is your ticket and your yoga mat! There is plenty of  parking and I live on a quiet, trafficless street! Space is limited to 50 so sign up now!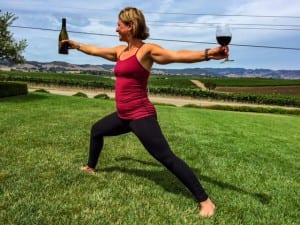 Speaking of events, I have two more Yoga in the Vines happening on Friday, July 8 at Baileyana Vineyards and on Wednesday, July 20 at Chamisal Vineyards both in SLO. This is a FREE event that includes a one hour yoga class with yours truly from 5-6 p.m. both dates. Get more info here! 50 people came to the last event so make sure to arrive early to get a spot.. wine and yoga… who would've thought?!
_____________________
Enough about me! Happy Summer! It's time for BBQs, the Fourth, beach days, good books and a nice glass of Rose! Here are my three favorite dishes to bring to any party; casual or fancy! When the dish is empty at the end of the night, you know it's a hit and you add it to your "go to" list of recipes! The first of which are Flourless Chocolate Cake Cookies and since they are gluten free, you don't have to worry about anyone's allergies! They are super moist and light and because they are pretty clean, you won't mind having two… or more…. The second are protein balls which are easy peasy to make and you can even freeze them and take them on the go when you don't want to have to eat bad but you need a little "something something!" And the last I stole from my Ma! Any party that she is invited to, people literally beg her to bring her world famous calzones and when she does, if you're not in reach of the plate when she unwraps it, good luck getting a bite!
_______________________
Flourless Chocolate Cake Cookies- makes 20
Ingredients:
-1/2 cup unsweetened cocoa
-1/2 cup almond butter
-2 packets of Trader Joe's Oh! My Omega Nut mix (cranberries, almonds, pumpkin seeds etc)
-1 egg
-dash of cinnamon and nutmeg
-1 tsp baking powder
Directions:
1. Preheat the oven to 350.

2. Mix all the ingredients together in a large bowl.
3. Layer a baking sheet with parchment paper and scoop spoonfuls on it.

3. Bake for 15-20 minutes or until golden at the sides. Enjoy with some Almond Milk!
__________________________
Protein Balls- yields about 30
Ingredients:
-1 cup Oatmeal (not quick oats, can be gluten-free)
-1/3 cup shredded coconut
-1/2 cup chocolate chips (mini chips work best)
-1/4 cup flax seeds
-1/4 cup almond butter
-1/4 cup chocolate peanut butter
-1/4 cup honey
Directions:
1. Mix the dry ingredients together. This choco-butter is the bomb!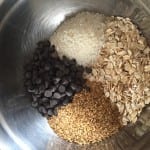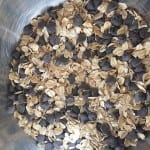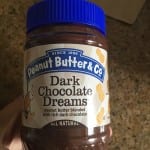 2. Then add the peanut/ almond butter and the honey and mix well.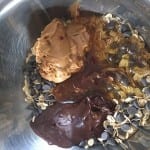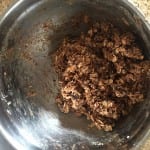 3. Using your hands, roll in little balls.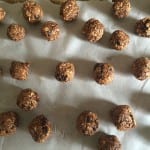 4. Place in a sealed container and refrigerate. Enjoy these little bites when you need a little boost!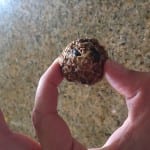 _____________
Spinach Calzone- serves 2 or more 
Ingredients:
-1/2 lb pizza dough (I used Trader Joe's whole wheat but you can use a gluten-free variety if you need it)
-an 8 oz. bag of spinach 
-1/2 red pepper, chopped finely
-1/2 green pepper, chopped finely
-1/2 cup crimini mushrooms
-1/2 cup sun-dried tomatoes
-1 small yellow squash
-1 baby eggplant 
-1/2 red onion
-5 cloves garlic, minced
-3 T Niccola's pesto
-Italian seasoning
-salt and pepper
Directions:
1. In a large sauté pan, cook the spinach with a bit of olive oil. Place the spinach in a strainer until it cools. Using your hands, ring out the spinach, so that all the remaining water releases. This way you won't have a soggy calzone!
2. Chop up all the vegetables and place in a large bowl. Add the pesto, some salt and pepper, and mix well.
3. Roll out the pizza dough, using some flour, and try not to make it too thin.
4. Start to layer your vegetables on top of the dough, placing the spinach in between so it's not directly at the bottom or top. Again, this is so your calzone won't be soggy!
5. Sprinkle some Italian seasoning on top.
6. Either fold your calzone in a half-moon shape, or fold it like an envelope if you have a lot of extra dough.
7. Lightly brush some of the beaten egg over the seals to ensure the calzone doesn't open while it's cooking.
8. Flip the calzone over and place on an un-greased baking sheet or on your pizza stone, like me, for 35-40 minutes or until the edges are golden.
9. Mangia calzone!
 ______________
Hope to see you all at OM Sweet HOME! For those of you not in California, let's do one in your town soon!