Back by popular demand it's my annual Thanksgiving blog post with Vegan recipes for you to try and to share with your family and friends! Every Thanksgiving for the last decade or so, I have taken up residence in my kitchen and I prepare the meal that entire day, cooking from what seems like sunup to sundown. Andy works every year, so it's the perfect day to invite friends over who don't have family in town or let's face it, who don't want to spend their time with family! You can choose your friends, eh?! I have a hard time digesting dairy and I always feel so gross after Thanksgiving that I decided a few years back to change it up. Out with butter, heavy creams, cheeses and cow's milk and in with some Yummy Yogini goodness! 
Before you run out and do all of your Thanksgiving shopping, consider swapping out your butter-based, cream saturated recipes for some healthier ones that will keep you fit, and will absolutely make you feel full! If it's not already obvious with me having a food blog and all, I LOVE LOVE LOVE to eat. I'm not apologizing for it since we are only on this Earth for a very short time and there are thousands of different cuisines for you and I to try! Besides who wants to go through life avoiding foods and making ourselves guilty when we do indulge? Everything in moderation, my friends. Now if we could just apply this to Thanksgiving then we'd all be a-ok!
The recipes I'm sharing with you today are ones I have made the past two years and that my friends and family have loved. No one could tell that these dishes were any different from their mama's dishes which was crazy because they are all VEGAN! And alas none of my friends are Vegan so you see, I win. I didn't use any butter at all for these dishes although it tasted like there was "buttah" in there. I even put out a stick of butter for my guests and it was left untouched, another win for me.
It's a fact that dairy makes us feel bloated, it slows us down and many people have so much trouble digesting it, there's no room left for pie. What fun it that? So I took out the dairy and instead used ingredients like Almond and Coconut Milk making the dishes lighter, without taking away the rich taste. It's easy peesy! I didn't add any pictures for the simple reason that I want you to be able to cut and paste these recipes and take them with you to the grocery store. I did however include pictures for my Gram's homemade apple pie recipe that I updated by adding pomegranates to because it was too pretty to resist!
My last piece of advice for your Thanksgiving day is to get out and move! I'm planning on taking a long walk on the beach with Corduroy and Sugar before watching the Macy's Day Parade followed by the Dog Show! You will feel so much better if you take a long walk before and after your meal instead of passing out on the couch and watching football… although I have to admit that sounds pretty good too! On Black Friday, I'm teaching two special classes… First up, join me for some cardio kickboxing from 9:15-10:15 a.m. at Club Cardio in Grover Beach. Haven't been? First two classes are free then for you! And secondly, I'll be teaching Power Flow from 12-1 p.m. at the SLO Yoga Center with a special soundtrack called Dub Side of the Moon; think Pink Floyd set to reggae! Join me! Onto the recipes…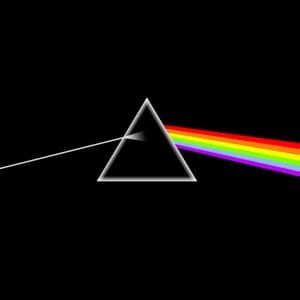 ________________________
Vegan Acorn and Butternut Squash Puree- serves 4
Ingredients:
-1 small butternut squash
-1 small acorn squash
-1/4 cup orange juice
-1 and 1/2 tsp brown sugar
-1/4 tsp fresh ginger
-salt and pepper to taste
Directions:
1. Preheat the oven to 400. Cut the squash in half, scoop out the seeds and sprinkle some salt and pepper inside. Drizzle some olive oil too, and place cut-side down on a baking sheet for 20 minutes or until soft.
2. When the squash is cool, scoop out the insides and place in your food processor with everything else. Puree until the squash thickens.
3. Enjoy and give thanks!
___________________________
Vegan Rutabaga and Sweet Potato Mash- serves 4-6 
Ingredients:
-2 small rutabaga
-1 large sweet potato
-1 cup Blue Diamond's Unsweetened Vanilla Almond Coconut milk
-salt and pepper
Directions:
1. Peel and chop the rutabaga and potato and place in large pots and cover. Boil until they are both soft and a fork can slip through them.
2. Place in a strainer and let cool.
3. Mash the potatoes and rutabaga until there are no big clumps.
4. Add everything to your food processor and puree until the constancy thickens.
5. Enjoy and give thanks!
________________________________
Vegan Green Bean Casserole with Mushroom and Onion Soup- serves 6
Ingredients:
-4 cups fresh green beans, chopped in half and without the stems
-8 oz. baby bella crimini mushrooms, chopped
-1 red onion, diced
-3 cloves garlic
-1 cup Blue Diamond's Unsweetened Vanilla Coconut milk
-4 cups of vegetable broth
-1/4 cup dry white wine
-1 T olive oil
-one handful of parsley and thyme
-salt and pepper
Directions:
1. Preheat the oven to 350. Take the stems off of the green beans and chop in half.
2. Place the green beans and 3 cups of vegetable broth into a pot and bring to a boil. When the beans are fairly tender, remove from heat and drain.
3. In a large sauté pan, add the chopped onions and mushrooms, garlic and the olive oil. Cook until the onions are browning, tossing frequently.
4. Remove the pan from the heat and add in the white wine first. Return to heat and simmer for 10 minutes. Then slowly add the herbs, chicken broth and milk.  If you want to, sprinkle some flour on top of the veggies to thicken the mixture. You don't need much at all! When the mixture is thick enough to your liking, remove from the heat.
5. Place the green beans in a 9×9 baking dish and pour the mushroom soup on top. Bake for 20 minutes or until bubbling. Top with fried onions if you like!
6. Enjoy and give thanks!
_____________________________
***Oh! And this next recipe my friend Amy posted on her blog. It's for a Paleo Cranberry Sauce and it sounds easy enough to make and even easier to cover my side dishes with! You can leave out the honey and make this one Vegan too, but I'm leaving it in! If you have some recipes to share with me, please do.. I'm always on the prowl.
Amy Approved Cranberry Sauce
-12 oz cranberries
-1 cup orange juice
-¼ cup raw honey
-1 tsp ginger (fresh)
-½ tsp orange zest
-¼ cup light agave (or raw sugar or coconut crystals)
-pinch cinnamon
-optional: pieces of orange
1. Mince the ginger and orange zest. Boil the orange juice, ginger and zest on high heat.
2. Once the liquid is boiling, add the cranberries. Reduce heat to medium (about a 4 on my stove) and cook uncovered for 7-10 minutes, stirring occasionally until the cranberries have burst.
3. Remove from heat and add the agave, honey and cinnamon. Stir and set aside to cool. Once the cranberry sauce reaches room temperature, cover and refrigerate. Can be done several days in advance.
_____________________________
Apple Pomegranate Pie- makes two large pies
Ingredients:
– 8 large apples (I used a variety of Cortland and Granny Smith)
-seeds from 3 large pomegranates
-3/4 cup light brown sugar
-3/4 cup white sugar
-2 T cinnamon
-1 T each nutmeg, apple pie spice and ground ginger
-1 egg beaten (for top of pie and is totally optional!)
-2 pie shells (I used the frozen kind… don't judge!)
-extra dough for lattice topping (optional)
Directions:
1. Preheat the oven to 375.
2. Slice the apples finely and deseed the pomegranates. Learn how here!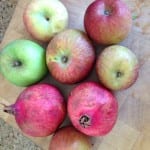 3. Mix the sugars and spices together with the apples and pomegranates.
4. Place in a pie shell.. this recipes makes two!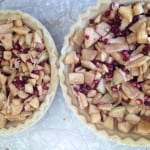 5. Defrost the phyllo dough and using some flour, roll the dough out. Using a large knife, create strips of different sizes.
6. Then layer the first row of the lattice crust on top. Brush the beaten egg on top.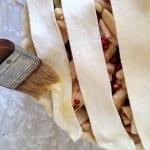 7. Then add the second layer of lattice.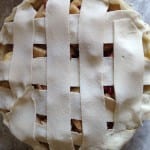 8. Bake for 45 minutes or until brown and apple mixture is bubbling.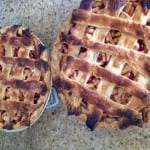 9. Give thanks and enjoy!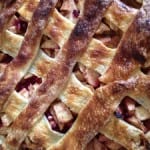 ________________________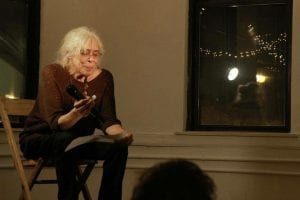 Happy Thanksgiving to you and thank you for reading this here blog and encouraging me! Your continued support is a real blessing and I'm lucky to have readers like you! I want to dedicate this blog to my dear friend Louise Champlin who died over the weekend unexpectedly in Chicago.
When I first moved to Chicago in 2002, I was encouraged to go to the Chicago Women's Heath Center for my appointments, prescriptions, acupuncture needs and more. I remember my first time there, sitting in the waiting room that looked like a page out a 1970s magazine, but was so cozy and inviting that you never gave it a second thought. After my first appointment with Louise, my health worker, I asked her if they were looking for volunteers. She said yes and for nine straight years, I came in every Wednesday morning to answer phones, send faxes, and check in clients, all while growing my friendship with Louise who I admired and was constantly inspired by to do more in life. She was the definition of the word feminist and her hearty laughs and hugs are what I'll miss most about her. She always did and will continue to bring a smile to my face.
So thank you Louise, I am grateful and honored to have known and loved you.