Beep beep!!!! Andy and I have a new adventure that we're excited to announce to ya'll today… we recently purchased a 1982 VW Westfalia Van and we're creating more unqiue yogi/foodie events but to take on the road! Cool right?! Owning a Westy has been a huge dream of mine ever since I first laid my eyes on one! I drove a VW Jetta for years and I have always preferred driving a stick to a boring old automatic, ya know? We searched the internet, Craigslist and such until a yoga student overheard I was looking for one and got me in touch with a friend of her husband's who was selling his. It was a match made in heaven! And because Flossy the Westy has a full kitchen (two burners, a sink and fridge) Andy is able to prepare meals in it so we are set to take our "OM" events on the road! Adventure well, and more often is our new mantra I'd say!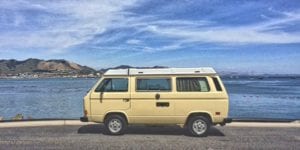 Our vision for OM on the ROAD is simple; it's to live simply and experience life in a quieter, wilder and purer way than our day-to-day as often as we can. Plan a yogi/foodie pop-up adventure with us in your town! We bring the yoga and food, you provide the space whether it be in your backyard, local park, campsite or vineyard, you create your own stage. The audience is waiting! We love being apart of, and helping build new communities on and off the mat/kitchen… and the fact that you don't need to be sitting around a large table to enjoy good company is key; you can easily attain it standing around a cool van surrounded by nature and fresh air!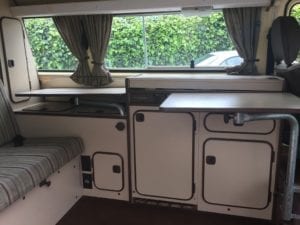 We plan to hit up farmer's markets along the way to our destinations so Andy can use the freshest and most local ingredients available and we can meet some townsfolk along the way! And because he doesn't require a kitchen, we can have these pop-up events pretty much anywhere! We are available for glamping adventures, yoga retreats, cooking classes and just about anything that had us embracing new detours. Adventure may hurt but monotony will kill us! Visit our new website here! And make sure to follow us on Instagram too here!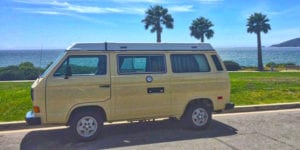 ____________________
We took Flossy on a nice long drive this past weekend through the vineyards and mountains and we brought some brunch with us too. This is an easy peasy recipe to prepare and create and I want to thank Sally, a yoga student, for these fresh goose eggs she gave me from her farm. These eggs are two to three times the size of your normal egg and are great to bake with. I eat eggs just about everyday so please share your favorite recipe with me! This dish is healthy, clean and everything is fresh… mangia!
Veggie Egg Bake- serves 2-4 people
Ingredients:
-4 to 6 large eggs
-1 red onion, chopped
-1 yellow squash, chopped
-1 zucchini, chopped
-any other veggies you enjoy like asparagus, pepper, squash etc.
Directions:
Preheat the oven to 350 and chop up all your veggies.
Cook the veggies for 5-10 minutes until they are softer.
Crack the eggs on top and continue baking for another 15-20 minutes or until the yokes are all cooked.

Season with salt and pepper and enjoy!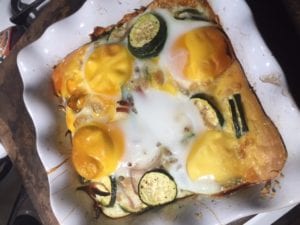 _____________________
So most of you know I am a huge reader, not so much a TV watcher, but I am addicted to The Handmaid's Tale on Hulu. If you dig novels about utopian societies, then you'll love Margaret Atwood's book and you'll love the TV show just as much. The story is set in the near future and is a work of speculative fiction, which I love. I don't want to give too much away, but after a totalitarian Christian theocracy has overthrown the US government, most women are left infertile and have to find handmaid's that are willing to become impregnated for them. It's a novel that explore the roles of women and the degree to which some women (and men) will go to procreate. You will not be disappointed!