Rabbit Rabbit! It's August 1st and when I was much younger I was superstitious about always saying "rabbit rabbit" on the first of every month and then getting out of bed from the foot of it, and I can't even tell you why! A neighbor of mine did this and she got me in the habit of doing it too but somewhere along the years, I completely forgot about it and stopped saying it until today when I saw it on another blog. Please tell me why I did this for so many years if you know because I don't. I feel like it would make for an excellent episode of Seinfeld or a chapter in the book I'm write someday…
Books are my favorite part of summer for sure. The Namaste Nook, my little free library in front of my house, has been such a success, except for the guest book that was stolen last month. In hindsight of that though, the books have been steadily changing and the new guest book gets written in often. We will take your donations though so swing on by! We also have a Facebook page where we update the books on the shelf and you can check it out here! My favorite books this summer have been "American Heiress: The Wild Saga of the Kidnapping, Crimes and Trial of Patty Hearst" by Jeffrey Toobin, "Out of Line: A Life of Playing with Fire," by Barbara Lynch, "The Most Beautiful: My Life with Prince," by Mayte Garcia and "The Road to Jonestown: Jim Jones and the Peoples Temple" by Jeff Gunn. Get them, they are so good you will read them fast!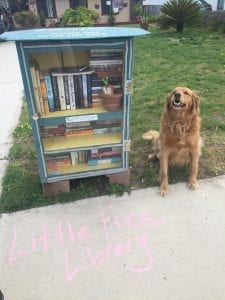 I do love the start of a new month especially when it lands on a Monday, which today is NOT, but that's okay, I'll roll with it. I'm in awe of how fast the summer goes by. Even though I live in California and everyday is pretty much warm and comfortable, there are a plethora of events happening and a bunch of places I want to see and camp to and hike through and just generally ignore work to do full-time but such is life. Andy and I are planning a trip up north to Mt. Shasta, which is probably one of the most beautiful places you will ever see, and to our beloved Big Sur that has been partially destroyed by fire these past months. Mother nature is intense in this state; one second we're in a draught, the next it's raining so hard it's flooding and now it's so dry things are burning up literally EVERYWHERE.
For now, I'll take advantage of the fact that there's grass in my backyard as I prepare for Cinco de OM happening this Saturday at my house in Grover Beach! It's like Cinco de Mayo but in August and of course there will be tapas, Margaritas, Modelos, Micheladads, vendors, horseshoes, chair massage, henna tattoos and more! Tickets are just $22 and can be purchased here. Bring a friend or two and yes you can bring your husband/boyfriend/partner who does not do yoga and yes, he or she can hang with my husband in the kitchen! Andy's going to be making Spanish-inspired fare for the fiesta and there will be gluten-free and vegetarian options too. Best of all, you can help build this yoga community with me! Speaking of Andy's yummy food, we have a few yoga/foodie OM on the Road events coming up at nearby vineyards and wine bars in August and September so keep an eye out for Flossy the Westy!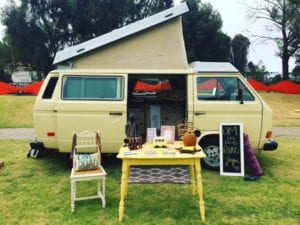 It's Taco Tuesday if you will and I'm sharing an easy peasy Turkey Qunioa Salad with you today. You can make mini tacos out of these using tortillas, or mini peppers, or lettuce wraps or even in large pieces of zucchini. You can also toss this over fresh spinach or greens for a big salad or you can enjoy it just the way it is.
_____________________
Taco Turkey Quinoa Skillet Salad- serves 2-4 
Ingredients:
-1.5 lb ground turkey
-1 cup dry quinoa
-1 can of corn
-1 can of red kidney beans
-1 red onion, chopped
-4 small tomatoes (from my garden!)
-1.5 cups water
-salt and pepper
-avocado, scallions, cheese or sour cream all optional for toppings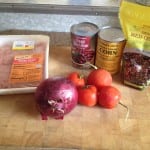 Directions:
1. In a large skillet or sauté pan, brown the onions and turkey meat together.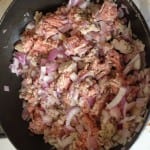 2. Then add the corn, beans, tomatoes and the water.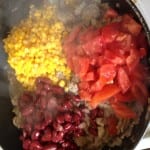 3. Bring to a boil and then add the quinoa.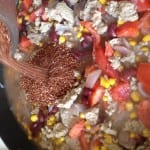 4. Cover your pan for 20-25 minutes or until the quinoa has popped and the water, absorbed.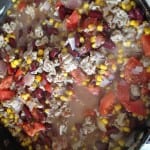 5. For a garnish use sliced avocado, scallions, cheese or sour cream. To make this a salad, just add lettuce and serve! Easy peesy, clean and quick!
___________________
I'm leaving you with this introductory video on how to begin the process of standing on your head. It's not very long so you can practice, practice, practice it often! If you have questions, ask!
Into to standing on your head! from niccola nelson on Vimeo.