I have a real treat for you all today! This being a yoga blog, I wanted to share some videos with you that I have filmed throughout the past months. Sometimes it's so hard to actually describe certain stretches or poses without actually giving you a visual and with this here post, I'm aiming for such. I read all of your comments and questions and I'm constantly being asked what I do for a sore neck, or what I personally do to strength my abdominal muscles or "core" and which poses are my favorite to practice. So sit back, relax and watch some "Nicc at Nite"!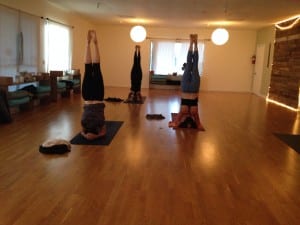 My Vinyasa classes feature a lot of inversions; think headstands, chin balances, handstands and forearm balance poses too. I like to challenge my students to go beyond what they think capable, and to enjoy the process and journey as they do. Often times, we use the shoulders and head (to stand on) so much during a class that students often complain of a sore neck or upper back. This is common and doesn't mean you are injured! So here's my favorite way of releasing tension in the neck and back at the same time, whether after yoga class, a long day spent in front of a computer, or after hours behind the wheel. All you'll need to do is get down onto all fours and you're good to go!
Neck Stretch from niccola nelson on Vimeo.
________________
This next video brings my love of Core Work and Headstand together! You'll need a strong headstand practice to attempt this and you don't have to put anything in between your feet like mine. I just like to see what my feet are actually capable of both holding and lifting at the same time!
Headstand core work with the Dharma Yoga Wheel from niccola nelson on Vimeo.
________________
Here's a great way to tone your arms and build upper body strength. Start in a plank position and then lower halfway down until the shoulders line up with the elbows. Then  take little hops forward and back, hovering close to the mat, while trying to get air in between!
Nakrasana, Crocodile Pose from niccola nelson on Vimeo.
____________________
And lastly, here is THE best way to build strength in your legs, core, arms and back! All you'll need is two yoga blocks and if you're super strong, you can omit the blocks and flatten your palms on the mat instead!
Lift Up! Core Work! from niccola nelson on Vimeo.
_________________
So onto food now! The Fourth of July is approaching and you're probably headed to a party and need a fun, creative and (hopefully) healthy dish to bring so let's talk mangoes. I can't get enough of them! There are always mangoes in California, during all four seasons, so it's easy to use them in a variety of seasonal dishes. I've been to a bunch of BBQs this summer and my favorite dish to bring is Mango Papaya Salsa. Simple, dairy-free, clean, fresh and cheap to make, this dish is always a crowd pleaser. I eat the leftovers for lunch in pitas, stuffed with cilantro and arugula. Yum!
______________
Mango Papaya Salsa- makes one large bowl
Ingredients:
-1 can organic black beans
-1 can organic yellow corn
-1 large heirloom tomato
-1 avocado
-1 large mango
-1 medium papaya
-1 red onion, chopped finely
-1 bunch cilantro
-2 large limes (squirt juice at very end)
-salt and pepper to taste
Directions:
1. Chop up all the ingredients finely.
2. Then take all the ingredients and toss in a bowl! Squirt lime juice over salsa before serving.
3. Serve with chips/pitas or lettuce wraps!