And just like that it's November and I actually saw a Christmas wreath up yesterday.. yup, the day after Halloween. Either embrace it or chase it away I guess but truth be told the holidays are actually coming. In order to avoid having a meltdown over pre-season decorations, shopping lists, family in town and getting out of your routine, make sure to devote at least five minutes a day to yourself and try meditating or doing a little yoga or practice deep breathing to curb anxiety and getting over emotional. Take some YOU time this upcoming Thanksgiving holiday to OM before you eat… your family will appreciate it! 
I've said this before and I'll say it again- you don't need hours or even an hour to get a short yoga practice or breath practice or meditation practice in. Just committing to the practice of rolling out your mat and actually getting on it is something all in itself. And if you want to slowly and steadily build your practice, try starting with just five minutes a day. In no time, five minutes will become 10, 10 becomes 30 and so on and so forth.
If you can't commit to getting up early to get your yoga done, then do it after work. If you're too tired then do it during lunch! Every other Wednesday I teach yoga to the employees from the San Luis Obispo County Department of Air Pollution Control during their lunch hour. The class is from 12:10-12:50 so it's short but that doesn't mean it's not complete. I love the idea of work place yoga because it gets people away from their desks and computers and then there's no excuse for not having time to work on your mind, body and soul. And if you can't get away from your desk, add in some chair yoga! Think shoulder rolls, head and neck circles, twists using the chair and leg raises to keep the blood flowing in your lower body. You can rest when you're dead right?!!!
Speaking of being a mover and shaker, on Sunday November 20 I'll be hosting another OM on the Ridge, a unique event for hikers, yogis and People Who Brunch! Since it's near Thanksgiving, I'm hoping to get the community together to celebrate how grateful we are to know each other and to live in such a beautiful place where we're able to hike in the "winter" months! Get the info for the hike here!
Two weeks ago I had my fourth yoga event called OM on the Greens at Blacklake Golf Course where Andy works. He provided a huge gourmet luncheon while I provided a one hour chair yoga class for all ages and body types. I was excited when I realized two of the ladies were in their nineties and still wanting to practice yoga even though their practice used to solely be on the mat years ago. Non-attachment is a beautiful thing! I also had a bunch of husbands come and there was even a handful of people in their twenties who came to learn stretches while they are trapped behind a desk. If you can stretch in a chair then you can stretch anywhere is what I'm trying to say! How cute is this bunch by the way? My next event for Chair Yogis is called OM for the Holidays and is on Friday, December 9th with a holiday bazaar too. Get the info here!

________________________
Having company this month? Don't have too much time to cook dinner? Feeling like a hearty and warm meal? Here are two easy peasy recipes for you then- the second recipe uses the leftovers from the first recipe so you are literally stretchhhhhhhhhing your budget with these!
Slow-Cooked Whole Chicken and Veggies- serves two or more with leftovers
Ingredients:
– 1 whole chicken
-5 carrots, chopped
-5 celery stalks, chopped
-6 cloves garlic
-1 red onion, chopped
-1 green apple, chopped
-2 T Herbs de Provence
-1 cup frozen peas
-2 cups water
-salt and pepper
Directions:
1. Grab your crock pot and stick your chicken in it. A turkey will work fine too.
2. Then chop up all your veggies and place them in the crock pot too.
3. Add the water, spices and salt and pepper.
4. Set on high for 4 hours or until the chicken falls off the bone.
5. Make sure to take all the bones out before serving! A nice loaf of French bread would compliment this well too! Enjoy!
With the leftovers from this recipe, I like to make chicken pot pies! I didn't have the time to make my own  pie crust, which is tedious but fun, so I used the frozen shells you find at any grocery store. Simply load in the remaining chicken and veggies to the pie shell and some of the broth, not too much though. You can get fancy and make a lattice crust on top or just bake on 375 degrees for 50-60 minutes. Mangia!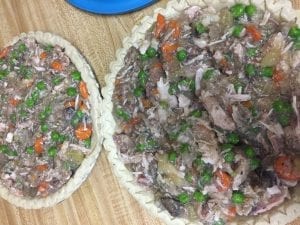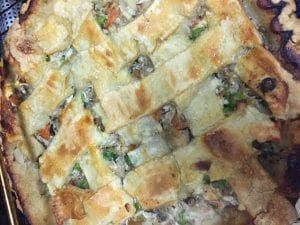 _____________________
I just finished reading Every Last Tie, a memior written by David Kaczynski, the brother of the Unabomber, who turned Ted into the FBI when his wife recognized certain similarities between letters sent between the brothers and the manifesto that was published in the New York Times. Dave's wife Linda had never even met her brother-in-law, oddly enough. I had no idea it was his brother who had turned him in and this book reads like that of a torn hero; he was able to stop the Unabomber's killings but at the price of locking his older brother up for life. It was a fast and short read and I recommend it if you like to read about serial killers and all things forensic like me!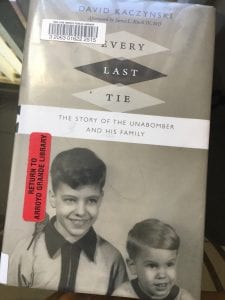 Lastly, GO CUBS GO!!!!!!!!!!!!!!!