Don't cha just love these kitschy titles of mine? I just want to take the time and thank all of you who came to my last event, OM Sweet HOME, because it was a complete success with 55 people doing yoga together, noshing on Andy's food and sipping my favorite wines while shopping, conversing and really enjoying themselves! It was so great to see so many students from all the different studios I teach at throughout the county. I love building community and having fun events like these. Plus it's nice to chat it up with people who I see on a daily basis besides the usual hello, namaste, have a nice day!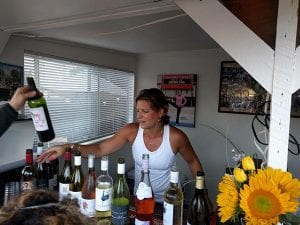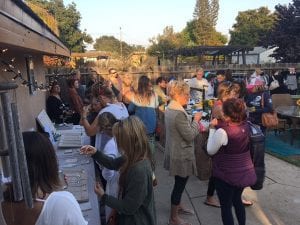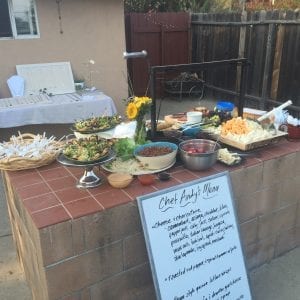 Andy and I will be teaming up together again on Thursday, September 15 for our second OM Sweet HOME but in the meantime, my wheels have been turning and I have created a new event for yogis, hikers and people who brunch! One of my favorite things to do on the Central Coast is hike. It took me awhile to really get into it but the views are so rewarding and it's such a great workout… so much better than being inside of a gym if you know what I mean. On Sunday, August 21 from 9 a.m. until noon I invite you to join me on a guided hike of the Avila Ontario Ridge Trail followed by a 45 minute yoga and meditation class on the Pirates Cove Beach. My chef hubby will be meeting us down at the beach with bagged brunch and mimosas and there will be jazz music playing in the background!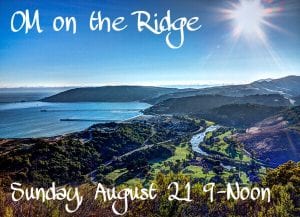 This idea has been brewing in my head for some time now and when I told my friend Jamie about it, she told me in San Francisco they do these all the time and that they're quite popular. Who knew?! There are so many cool trails just minutes from where I live so I decided to harp on that and create sometime different… or at least I thought! This event has Chef Andy though; those do not! My friend Brooke and I hike the Avila Ridge aka Ontario Trail aka Shell Bluffs two to three times a week and we love it and hate it all at once. (Look how happy we are below!) Of course we always feel amazing when we finish the hike, but it is indeed a workout! The yoga class I'll be providing after the hike will be a variety of deep stretching, meditation and gentle flow. Nothing too strenuous after the hike I promise!
Just a little bit about the Ridge if you've never done it before… The hike is nestled between Avila Valley and SLO Bay at the foot of the Irish Hills. The 753-foot hill separates Avila Beach from Shell Beach and the views are breathtaking! We will follow Ontario Ridge overlooking the Ocean, with sweeping vista of the Irish Hills, Avila Beach, Port San Luis, Whaler's Island and the Shell Beach/Pismo Beach coastline. The views also extend all the way to Point Sal (another hike you MUST take) and we will see Cave's Landing on the way to Pirate's Cove for yoga and brunch! The hike starts off with a medium climb and there are small climbs along the way until you hit the top and then it's all downhill from there. Wear good shoes with traction… trust me on this one! There are also two shorter and easier paths that students can opt to take and they all meet up at the same place. Everyone will be encouraged to go at their own pace and take as music time as needed. Tickets are $22 and include hiking, yoga, food and drink and they can be purchased here! There's more info about the hike and our meeting time/place at that link as well!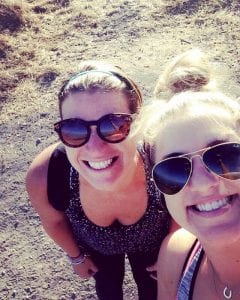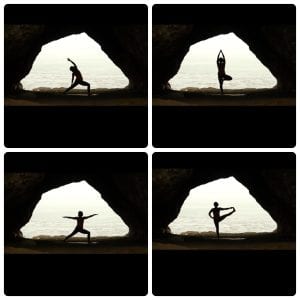 Cave's Landing.
___________________
Of course Andy and his menu were the big hit on Wednesday night and people keep asking me for the recipe to the Quinoa Salad with Lettuce Wraps that he made so I'm sharing it with you today. This dish is clean, green and fresh and so quick and easy to make. Just purchase some butter lettuce and you have yourself some little quinoa wraps!
Quinoa Salad with Thai vinaigrette dressing- serves 15 
Ingredients:
-one box of quinoa (red, black or regular)
-thumb of ginger, peeled and grated
-1 bunch cilantro
-2 limes
-1 red bell pepper
-2 cloves garlic
-1 red onion, chopped finely
Thai Vinaigrette Dressing
Ingredients:
-1/4 cup of apple cider vinegar
-1/4 cup rice vinegar
-1/4 red wine vinegar
-1/2 cup sweet Thai chili sauce (I like Mae Ploy found in any Asian grocery store)
-1 T sesame seeds
-1 cup olive oil
-salt and pepper to taste
Directions:
In a pot, bring the quinoa to a boil until it starts to open. Looks like it has little eyes popping through and is soft when ready. While water is boiling, chop everything up finely and squirt the juice of the two limes on top. When the quinoa is ready, put into a fine strainer and run cold water through it until it stops bubbling. Usually takes a few minutes. Add the veggies, citrus dressing, and stir well. Easy peesy!