Happy Fall Y'all! When I think of autumn it reminds me of falling leaves, hayrides, carving pumpkins, warm sweaters, hot apple cider, harvest parties, apple pies, scarecrows and Halloween. Here on the Central Coast though, we are pretty much at the start of our summer that lasts about 2 months and if you saw the news last week, San Luis Obispo was the hottest city in the nation! So no warm sweaters and hot apple cider for me. Thank God I live right by the ocean… there's nothing like a quick dip to cool down all that pitta, Sanskrit for fire, in me! 
Speaking of last week, OM Sweet HOME #2 was so much fun with 40 yogis practicing, noshing and sipping wines together on an Indian summer night. Local DJ Erin Biermann was here again and people were grooving while doing yoga in my driveway! I'm so amazed at the wonderful community I have here around me. Everyone is so supportive, enthusiastic and giving that I have to pinch myself sometimes. If you subscribe to my blog my hitting the button at the bottom of this post, you're sure to stay informed on all of my upcoming events!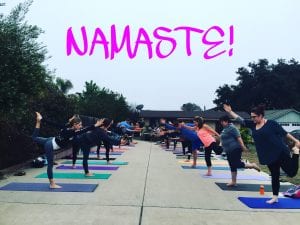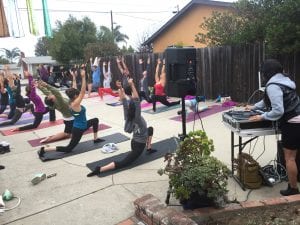 My chair yogis keep asking when I'm going to have an event that is specifically tailored to them so I'm delivering with OM on the Greens, a unique day of chair yoga, delicious food from my hubby Andy and trunk shows from LuLaRoe and Stella & Dot, and local artisans too with an eclectic blend of music! Join me on Friday, October 21 from 12-2:30 p.m. at Blacklake Golf Course in Nipomo for a one hour chair yoga class followed by all this fun and more! This is the perfect class for those who are beginning yoga or chair yoga, drive or travel often and are looking for stretches, also for those who sit in a chair all day and could use help with their posture and for the elderly, those with disabilities and in wheelchairs too. What I'm trying to say is that this class is literally for anyBODY! Tickets are $20 and include yoga, food and drinks! For more info or to sign up go here!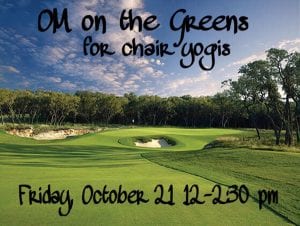 There are two Chair Yoga groups that I teach; the first meets every Tuesday at the United Methodist Church of Arroyo Grande on Halcyon Road from 11-11:45 a.m. The second is on Thursdays from 1:15-2 p.m. at the Creekside Mobile Homes Community Center on 3960 South Higuera in SLO. The classes are both just $5 per person and are open to anyone who would like to come. Chair Yoga is a gentle form of yoga that is practiced sitting in a chair, or standing using the chair for support. I also incorporate meditation and breathing techniques so it's a relaxing class head to toe. Bring a friend!
__________________________
Onto food! All three recipes today feature pumpkin spice in one form of another to get you into the October/Halloween spirit! Enjoy these low fat, gluten free but packed with taste, treats below!
Delicata Squash Pumpkin and Apple Spice Muffins- yields 15 muffins
Ingredients:
-1 cup gluten-free flour (I used Trader Joe's brand)
-1 delicata squash
-1 apple
-2 eggs
-1/4 tsp each of nutmeg, cinnamon and apple pie spice
-1/2 tsp pumpkin pie spice
-1 tsp vanilla
-2 tsp baking powder
-1/2 cup unsweetened coconut milk
-1/2 cup of Niccola's pumpkin apple butter (see below) (applesauce or almond butter is fine too!)
-1/4 tsp salt
-1/2 cup walnuts
Directions:
1. Preheat oven to 400. Spray muffins tins and place aside.
2. Cut the squash in half, take out seeds (save them!) sprinkle with olive oil and place cut side down on a baking sheet for 20 minutes or until it is soft. Let cool.
3. In a bowl, mix the flour, powder, spices and salt together.
4. In another bowl, mix the eggs, vanilla and milk.
5. Scoop out the squash and place it in your mixer with the apple butter and puree.
6. Add the other wet ingredients to the squash mixture and puree again.
7. Slowly fold in the apples and flour and mix well.
8. Sprinkle walnuts on top and bake for 25 minutes or until a toothpick comes out clean.
______________________
Slow-cooked Pumpkin Apple Butter- makes 4 medium Mason Jars 
Ingredients:
-2 small sugar pumpkins or 2, 13oz. cans of Libby's pumpkin puree
-4 Granny Smith apples
-1 T each of cinnamon, nutmeg and apple pie spice
Directions:
1. Preheat the oven to 350. If you are using fresh pumpkins, you'll need to roast them first on 400 degrees and then scoop out the insides.
2. Chop up the apples and add them, as well as the fresh pumpkins or puree, to your slow cooker.
3. Add the spices on top.
4. Cook on low for 4 hours, stirring occasionally (if you are home!)
5. Let the butter cool and then place in your blender to smooth out the mixture.
6. Place in Mason jars without the lids, in your refrig overnight. I didn't go through the full canning process since I'm planning on eating this stuff fast and giving it to friends too.
7. Tie some cute tulle and a ribbon around the jar and present… or eat!
______________________
Banana Energy Bites- makes 25 small bites
Ingredients:
-2 ripe bananas
-2.5 cups rolled oats (I used gluten free from Trader Joe's)
-1/4 cup of almond or peanut butter
-1/4 cup honey
-1/4 cup mini chocolate chips
-1/4 cup flax seed
-1/2 teaspoon cinnamon and pumpkin pie spice
Directions:
Mash up the bananas in a large bowl. If using frozen bananas make sure you defrost them first!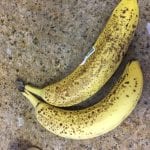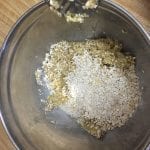 2. Stir in the rolled oats and then add everything else.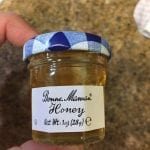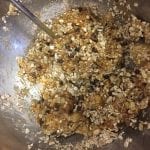 3. Using a sheet of parchment paper, scoop 2 tsp of the mixture and roll into small balls.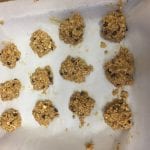 4. Refrigerate for at least 2 hours until the bites are firm and not mushy. I like to keep these refrigerated and I also like to bake some cookies with them if I have leftovers! Just toss them into a preheated oven of 350 degrees and enjoy!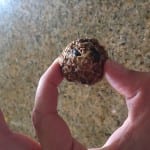 __________________________________
Okay so before I go, here are three local things (in SLO) that are a must if you are in town right now! First off, if you haven't read the book Tuesdays With Morrie yet, than you've been living in a hole! It is a beautiful story of a college professor named Morrie and his student and the relationship they develop before and even after Morrie's death. Bring the tissue box with you because this is a tear jerker with humor woven in between the story. Check it out at the Little Theatre this week!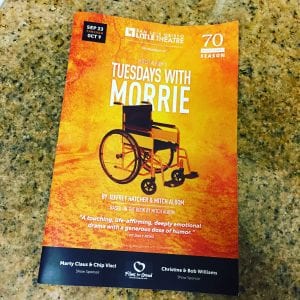 And secondly, your's truly just became an ambassador to the new lululemon athletica store in SLO! That's me you'll see gracing the walls on your way to the dressing room! I'm beyond thrilled to represent this company; it's community oriented, has a strong motto and has the BEST yoga clothes in terms of look, fit and style that there ever was so check them out!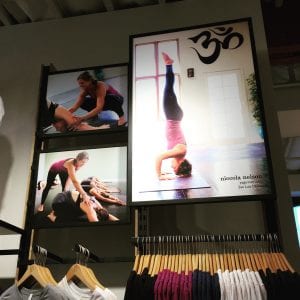 Lastly, I'll be teaching one more Yoga in the Vines class on Wednesday, October 12 at 5 p.m. at Saucelito Canynon Winery on 3080 Biddle Ranch Road in SLO. The class is FREE and so is the wine! Need I say more?
Just BYOMat!