Hello humankindness! I just want to thank you all for reaching out to me, for your text messages, calls, flowers, cards, well wishes and prayers that you sent my way last week. They did not go unnoticed and I appreciate the support from the bottom of my heart! My husband Andy is at home and recovering slowly but considering the circumstances, he's doing so, so much better. He is still suffering from a major head concussion so his short-term memory isn't as good as it could be. He's been playing Dominoes with his friend Adam almost everyday and I had him download the app Lumosity to his phone for the brain games and memory tests they give daily. And oh my God we surpassed our goal on Go Fund Me and we're up to $17,000 raised for Andy's medical bills!!!! People from the gym, yoga studios and Andy's work keep handing me checks and wads of cash toward his recovery and I can't keep it together I'm so emotional for the overwhelming love and support from people I know, don't know well and have yet to meet. Karma is real!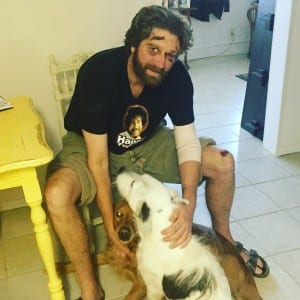 Boy, caregiving is hard! I don't envy any of you out there! It seems there is always something to do be it laundry, changing the sheets, cleaning the juicer or administering eyedrops and medicine, the day goes by fast. And of course I'm still working my crazy schedule, walking dogs in between classes and trying to find time to eat! I'm not complaining; I'm so glad Andy is alive and at home… I'm just amazed with all the chores! For those of you who have never met my Ma, she's incredible and always knows what to do/say/not to say/ during scary times. She ordered a HUGE fruit basket from California Fresh Market (only the best and most expensive produce in town!) near my house that is stocked full of pineapples, grapes, mangoes, pears, bananas, apples, berries and more. It has been a lifesaver this past week since Andy has a fractured jaw and cheek bones so it's impossible to open his mouth wide or chew for that matter. He also can't really brush his teeth…. lucky me! HA! Did I mention how much I miss his cooking???!!!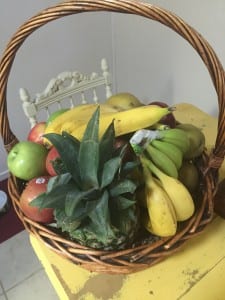 I want to thank my crock-pot too for the amount of stews, soups and chilis I've made and have yet to make! It's a lifesaver too especially because I can set it, go to work for five hours and come home to a warm, yummy meal that Andy can actually eat. He's also been enjoying lots of ice cream, yogurt, cottage cheese, oatmeal, applesauce, scrambled eggs and avocado. Tonight I may make pancakes for dinner, just cause! I've also rediscovered Fruit Roll-ups and my God they are delicious! Today I want to share with you some of the recipes I've been making for Andy this past week in hopes that you'll like them to; with or without a fractured jaw!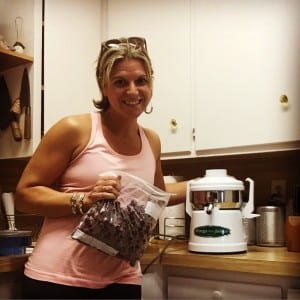 _____________________
Coconut Cucumber and Avocado Chilled Soup- serves 4 
Ingredients:
-2 large cucumbers
-Juice of one lemon and one lime
-2 ripe avocados
-1/2 red onion, minced
-fresh basil for garnish
–1 T olive oil
-1/2 cup unsweetened coconut milk
-salt and pepper to taste
Directions:
1. Cut up the cucumbers, one avocado and onion. Add everything into the blender.
2. Puree until you have a thick, creamy like texture. Chill until ready to serve.
3. Garnish with sprigs of basil and remaining avocado slices. Easy peasy!
____________
Let's Pretend It's the Weekend Banana Pancakes- makes 2 
Ingredients:
-2 eggs
-1 banana
-nutmeg
-cinnamon
-honey
Directions:
1. In a bowl, beat the eggs and add a dash of cinnamon, honey and nutmeg.
2. Peel your banana and mash it into the bowl until the texture becomes creamy.
3. Spray your pan and pour the pancakes on.
4. Cook on medium heat, flipping once.
5. Drizzle maple syrup or more honey on top if desired! At 130 calories a serving, you can't go wrong!
____________________
Granny Smith Butternut Squash Soup- makes about 15 cups 
Ingredients:
-1 butternut squash, peeled, deseeded and chopped finely
-2 Granny Smith apples, chopped and de-cored
-1 red onion, chopped
-1 large tomato, sliced
-6 sticks celery, chopped (SAVE THE GREENS for later!!!)
-juice and zest from one large orange
-2 cups almond milk (I used unsweetened vanilla but use whatever you've got)
-2 cups organic vegetable broth
-6 cloves of garlic
-1/2 tsp each of ginger, nutmeg, cinnamon and apple pie spice
-salt and pepper (to taste)
Directions:
1. Chop up all of the veggies first, making sure to peel and deseed the butternut squash and chop it finely so it will cook faster.
2. Zest the orange and place aside with the celery greens for the garnish later.
3. Place everything in a large pot and add the milk, vegetable broth, spices, salt and pepper.
4. Cover and set on high. Bring to a boil. Once it boils, turn down to low and keep covered for 45-60 minutes. Stir occasionally.
5. When the butternut squash is cooked through, you'll know it's ready. Take off heat and let cool for 10 or so minutes. Then place the soup into the blender and liquify on low.
6. Take the soup out of the blender and garnish with a sprig of celery green and some orange zest! It's vegan, vegetarian, healthy and best of all… yummy!
___________________________________
Have a wonderful Valentine's Day weekend! I'm teaching a FREE yoga class at lululemon SLO on Sunday from 10:30-11:30 a.m. Bring your own mat and stay for some Bubbly!
LOVE is my religion.