WOW! What an amazing community I have around me! There is so much yoga and so many choices as to teacher and style in this world, that I want to take a second to say I'm humbled by all of you out there who attend or have attended my classes, workshops and events, read my blog, inspire me on social media and just for being YOU! My last event OM on the Ridge sold out and there were 63 people who hiked the Avila Ridge and practiced yoga in Pirates Cove. It was a delightful day and Andy's food was a hit of course… not to mention all of the naked people on the beach! I was skeptical when I first moved here having known absolutely no one and I wondered how I would ever carve out a niche in this community, meet friends, and get teaching jobs, let alone introducing students to Ashtanga yoga which wasn't well known here. I had such a good thing going in Chicago and I was fearful it wouldn't happen here…. BUT it did! And I feel the LOVE and I appreciate it more than you will ever know… I am truly a "humble warrior" if you will!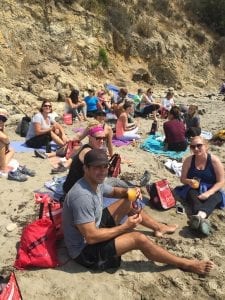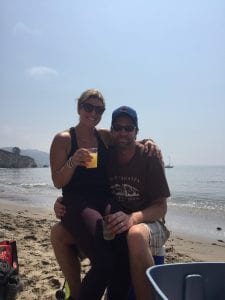 Alright wipe your eyes…. I feel like everyone I know keeps saying that "it's hard to believe it's the end of summer" but life moves fast when you're having fun, right? Personally, I'm bummed that it's the end of the strawberry season here on the Central Coast. My favorite stand closed its doors on Labor Day but I was able to scoop up a few cartons for a late summer dessert that I think you'll love that marries the berries with rhubarb! Have no fear if you've never cooked with rhubarb before; it's literally like celery except for it's color and it's easy peasy to prepare!
The combination of strawberry and rhubarb is one that was introduced to me when I was very young by my Ma who used to make the best Strawberry Rhubarb Pizza, the yummiest dessert I have ever had in my life! I still think about it to this day and if the recipe wasn't so complicated, I would have probably made it but instead, I have a simpler concoction for you to try. Who doesn't love crumble? I use this crumble with everything… you can make your own combination of fruits or pie filling and add this crumble on top for an added bonus. This is a gluten and dairy free recipe so don't be afraid to indulge if you have a weak tummy!
_______________
Summer Strawberry-Rhubarb Crumble- serves 10 people 
Ingredients:
-1/2 cup each almonds and pecans, toasted
-1 lb rhubarb
-1 quart strawberries
-1/2 cup almond flour
-1/4 tsp baking soda
-1/2 cup lite brown sugar
-2 T cornstarch
-1/4 tsp salt
-2 T vanilla extract
-1/2 cup almond butter
Directions:
1. Preheat oven to 350.
2. First make the filling. Cut up the rhubarb into 1/4″ thick pieces and quarter the strawberries. In a bowl, toss them in with the sugar, cornstarch, vanilla and salt. Let sit to thicken, tossing occasionally.
3. Then make the topping. Toast the nuts in the oven for about ten minutes or until they turn dark brown and you can smell them. Add them into your food processor with all of the other dry ingredients, flour last. Place on high speed until everything is incorporated.
4. Pour the fruit into a pie plate and sprinkle the crumble mixture on top, until fruit is hidden.
5. Bake for 40 minutes or until the topping is bubbling and is dark brown in color. Try not to eat it all in one sitting!
_______________________
I'm thrilled to announce my second OM Sweet HOME happening Thursday, September 29 from 6-8:30 p.m. in the intimate setting of my own backyard. Once again I'll be teaching a one hour all levels yoga class from 6-7 p.m. followed by wine and snacks from my hubby chef Andy. There'll be a LuLaRoe trunk show, jewelry by local designers heal + co. and Feather & Bow, handmade knits, a live DJ, doTERRA oils, Yonique cosmetics and more! Tickets are $25 and include yoga, food and wine. Get your ticket here!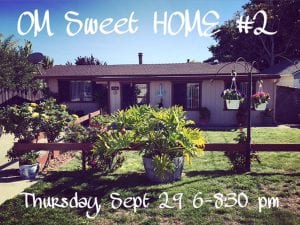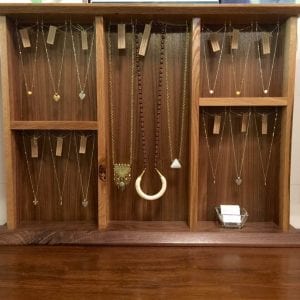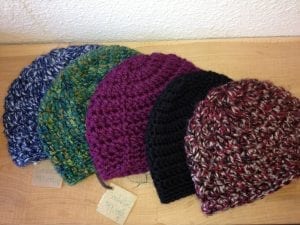 _________________
Lastly, I must recommend a late summer read for you! I just finished White Oleander, the story of a young girl whose life is shaped after her mother is sentenced to 30 years in prison after murdering her boyfriend by poisoning him with oleander flowers. The story is about a poet and the book is written very poetically to keep with the theme. It was a page turner and I started out loving the mother and then ended up hating her later. You won't be able to put it down and there's even a movie if you want more! Check it out!